If you're a skincare lover scrolling through your Instagram feed or TikTok, you've most likely seen skin barrier content flash across your screen at one point or another. The #skinbarrier is a popular topic that's been trending in recent years on social media (it has garnered over 1.9 billion views on TikTok alone!) and has steadily secured its place in the vernacular of everyday skincare and beauty aficionados. While we are generally not proponents of social media-borne skin trends, bringing attention to the importance of your skin barrier health is one trend that we approve of.
So what is the skin barrier exactly and what are the signs of a damaged skin barrier? And more importantly, how can you actively support your skin barrier health? We'll break it down for you. 
The Skin Barrier Simplified
The skin barrier, or stratum corneum, is the outermost layer of your skin which consists of skin cells called corneocytes that are often compared to bricks. These brick-like structures are glued together with a "mortar" composed of cholesterol, ceramides, and fatty acids. Your skin barrier essentially keeps the good stuff in and the bad stuff out — it helps to retain water and moisture and protects against environmental stressors and pathogens that can disrupt your health.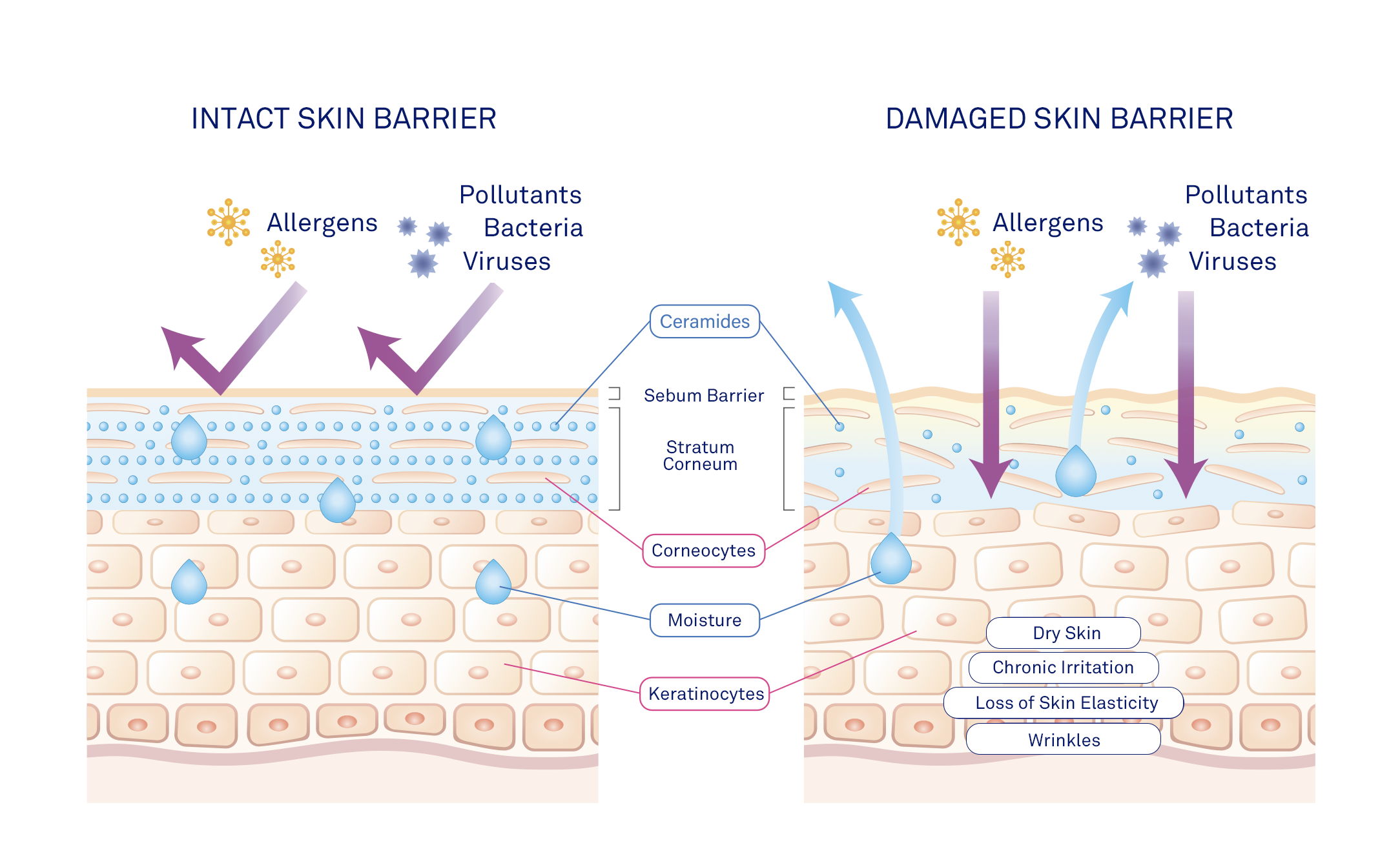 Signs Of A Compromised Skin Barrier
Some of the most common signs of a weakened skin barrier are the following:
What Can Damage Your Skin Barrier
There are many different factors and environmental stressors that can weaken your skin barrier. Some of the most common barrier disruptors are the following:
Physical exfoliants like skin brushes, washcloths, or scrubs
Chemical exfoliants or potentially irritating ingredients
Over-cleansing your skin
Overly aggressive skincare treatments
Harsh soaps or detergents
Hot water which strips the skin
Environmental factors like wind, extreme weather (hot or cold), and levels of humidity (high and low)
Sun exposure
Allergens and pollutants
Stress
Sleep quality
Poor diet
Our Skin Barrier Do's And Don'ts To Strengthen And Repair
Are you experiencing signs of a weakened skin barrier and want to take steps to strengthen and support it? Here are some of our top do's and don'ts to keep your skin barrier in tip-top shape this season.
Don't overdo the exfoliation and go easy with your actives
Wash your face outside of the shower with lukewarm water to avoid stripping your skin
Add healthy fats to your diet like avocado, olive oil, and omega-3-rich foods to nourish your skin from the inside out
Invest in a humidifier to support and maintain your skin's moisture levels
Pay attention to the PH of your skincare which can throw off the PH of your skin (RescueMD's PH is in the 6 - 6.5 range)
Use products with ingredients to support and protect your skin barrier. RescueMD DNA Repair Complex helps repair and protect against damage with allantoin, dimethicone, glycerin, and botanical extracts
Use a thicker, richer cream for added moisture. We like a rich cream with ceramides to replenish the lipid layer
Get plenty of quality sleep every night
Drink plenty of water to hydrate your body from within
Always wear broad spectrum SPF (30 or higher)
Consult with your dermatologist if your skin condition is not improving
*In a dermatologist-led clinical study, DNA Repair Complex was clinically proven to reduce redness in 96% of subjects observed for improvement.
How DNA Repair Complex Helps Support Your Skin Barrier
Our DNA Repair Complex has a neutral PH and is formulated with active ingredients that help support your skin barrier and your skin's moisture levels. Our formula contains barrier-supporting ingredients including allantoin, glycerin, dimethicone, and our signature antioxidants.

Allantoin is a calming water-based moisturizer that works to seal in hydration while acting as a skin protectant. Glycerin, a humectant, helps draw in moisture from deeper layers of your skin. Dimethicone, an emollient, softens and soothes the skin all while protecting the skin, sealing in hydration, and creating a skin-protectant barrier. Our powerhouse plant-based ingredients include black currant, rosehip, aloe leaf juice, sunflower seed oils, and rosemary and balloon vine extracts, which contain fatty acids and anti-inflammatory and antioxidant benefits to help soothe, reduce redness, synthesize ceramides, and support the skin's moisture barrier while defending against future damage.
An Easy Routine To Support Your Skin Barrier This Season
As we're heading into winter, it's particularly important to pay attention to humidity levels and follow a simple yet effective skincare routine tailored to the season. You'll want to make sure you tailor your skincare to the season and opt for gentle, hydrating products. Dr. Michael Suzman, FACS, RescueMD Co-Founder, elaborates:
Unfortunately the elements can be harsh on our skin. Sun exposure and cold, dry climates (or hot and humid) can certainly have a strong effect on our skin's hydration, texture, and wrinkles and can speed up the aging process... a daily moisturizer with SPF is essential and skin recovery with DNA Repair Complex has shown some near-miraculous improvements.
Dr. Michael Suzman
Chief of Plastic Surgery
Dr. Suzman recommends this simple, skin-health-supporting regimen for the cooler seasons which includes a hydrating, non-foaming gentle cleanser, DNA Repair Complex serum, a cream moisturizer packed with ceramides, and a broad-spectrum SPF for daytime.