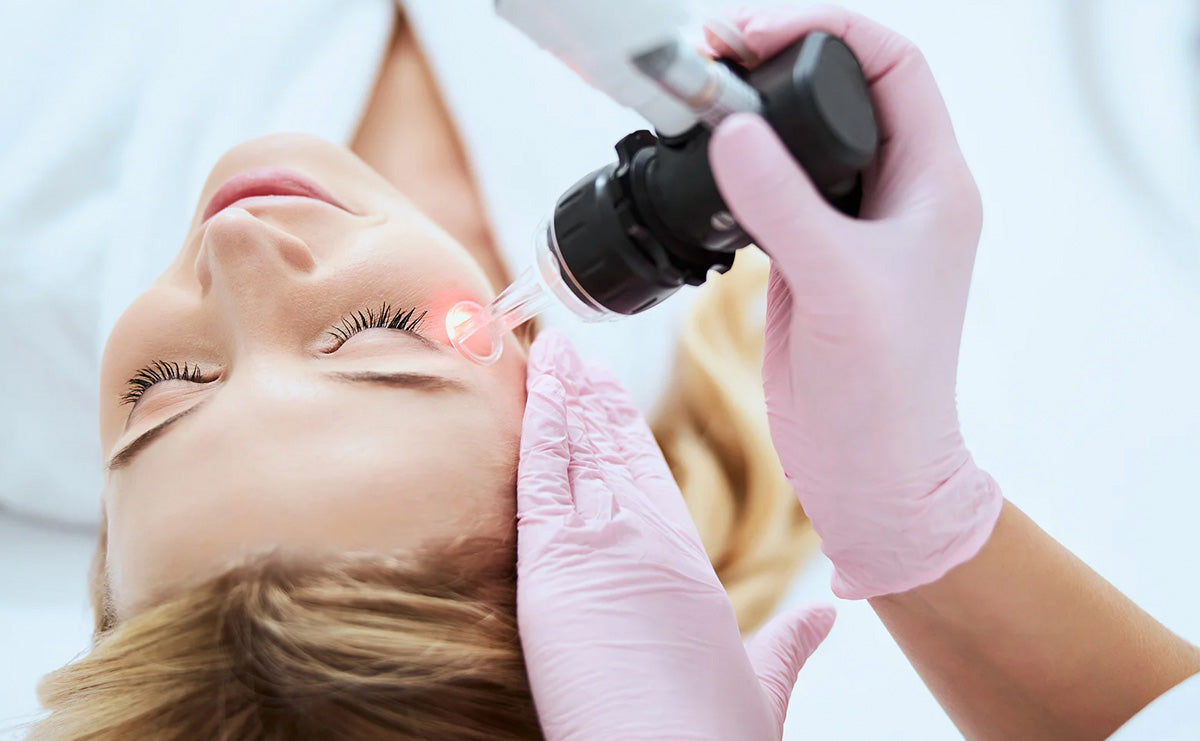 RescueMD > RescueMD Blog
Dark Spots Be Gone: Here Are the Top In-Office Treatments To Fade Dark Spots This Fall
Fall is officially here… and you know what that means — it's peel and laser season! While all things pumpkin spice, leaf peeping, and cozy knits are nice, it's safe to say we're most excited about all the skincare treatments we'll be booking to treat our dark spots left over from summer. Who else is with us? 
This month, we talked to top skin care professionals and estheticians about some of the most popular in-office treatments to treat hyperpigmentation and dark spots including chemical peels, microneedling, and laser and light treatments. 
Reveal Clearer Skin With A Peel
Chemical peels are one of the most popular methods of skin resurfacing you'll find at spas and dermatology practices across the country. Loved for their ability to revitalize dull skin and fade hyperpigmentation amongst other skin-health boosting benefits, it's no wonder peels are a favorite amongst skin care practitioners and their clients. Some of the most common types of peels you'll find at the med spa or at your dermatologist's office are alpha hydroxy acid (AHA) peels, beta hydroxy acid (BHA) peels,trichloracetic acid (TCA) peels, and phenol peels. While AHA and BHA peels are of a lighter depth and more superficial, TCA peels are generally considered a medium depth peel, and phenol peels are considered the deepest. 

There are different depths of peels, but they all work via the same mechanism: an acid with exfoliating powers (such as glycolic acid) works to dissolve the bonds responsible for binding dead skin cells to the epidermis, the most superficial layer of the skin. Once those cells have been swept away, fresh new skin is revealed and the process of cellular turnover has been stimulated, resulting in the production of new collagen, a reduction in sun damage (stubborn hyperpigmentation), and reduction in the appearance of wrinkles.

Note that it may take a series of peels to get your desired results. Work with your esthetician or dermatologist to develop a treatment plan with your skin type and goals in mind. 
Microneedle Your Way To More Even-Toned Skin
Microneedling, also known as collagen induction therapy, is a year round favorite of ours. Not only does it promote collagen growth, as the name suggests, it's also a fantastic treatment to help clear up skin damage accrued over the summer. In addition to gradually working to lighten unwanted pigmentation and sun damage, microneedling is also great for acne prone clients who are looking to lighten up scarring and address texture.

Similar to other in-office procedures, microneedling will likely take more than one session spaced at 3-4 weeks apart to see optimal results. Skin will continue to improve overtime after treatment.

While you may have less downtime than other resurfacing treatments (you can usually expect mild swelling, flaking, redness and inflammation for 24-72 hours post-treatment), it's still necessary to baby your skin post-microneedling. To get the best results from your treatment, your skincare regimen post-treatment and in-between treatment is crucial in achieving your optimal results. Rosie Petrillo, licensed esthetician and owner of me Skin Studio in Norwalk, CT, recommends DNA Repair Complex to all of her clients to help reduce inflammation and encourage cellular turnover:
Using DNA Repair Complex after microneedling helps to resolve visible inflammation and support healthy cellular structures within skin as it recovers and renews. That's why DNA Repair Complex is no doubt my #1 choice.
Rosie Petrillo
Licensed Esthetician
RescueMD customer's results (7 days post-treatment) after one IPL session with RescueMD post-care regimen. 
Boost Your Glow With Laser Or Light-Based Therapy
Luckily, there are many types of laser or light-based treatments available that target dark spots and unwanted pigmentation. Similar to other skincare procedures, laser and light-based treatments are not a one-size-fits all treatment. Your treatment provider will consider your skin tone (melanin levels), type, and severity of concern and provide you with their recommendations.

There are two main types of laser treatment that you need to know: ablative and non-ablative. While the more invasive ablative lasers remove the top layer of skin, non-ablative lasers work deeper under the skin and leave the skin intact. There are many different options available within these subcategories.

The most popular ablative treatments include carbon dioxide (CO2) laser and Erbium (ER: YAG), both of which are favored for their ability to more aggressively target scarring, wrinkles, and sun damage vs. their non-ablative cousins. Ablative treatments can take several weeks to fully recover so if you are going with this route, be sure to schedule your treatment well in advance of any important events or vacations, and definitely wait until fall/winter season to undergo treatment. Depending on your skin condition and the laser, your results may last longer and fewer sessions may be required to maintain your results.

Non-ablative lasers are also exceptional at targeting hyperpigmentation and sun damage and have loads of other benefits similar to ablative lasers (minimize fine lines, boosts collagen, treats scarring) though, may require multiple sessions generally spaced four weeks apart to reach maximum results. Another key benefit when comparing non-ablative lasers with its counterpart is a significantly shorter down-time. Popular non-ablative lasers are Fraxel, Laser Genesis, VBeam, and Clear + Brilliant (informally known as "baby Fraxel") to name a few.

Intense pulsed light, or IPL, though not technically a laser, is often grouped into the broader laser category. IPL is an effective way to target hyperpigmentation, vascular lesions, wrinkles and provide overall skin rejuvenation with minimal downtime.

Which laser is right for you? If you have more severe levels of photo damage, want to treat deep wrinkles and scarring as well (not to mention an empty social calendar and plenty of time to let yourself heal), you might consider asking your dermatologist or treatment provider if an ablative laser is right for you. If you are looking for something with a shorter downtime and have moderate levels of sun damage or signs of aging, a series of non-ablative lasers or light-based treatments might be the right choice for you. Consult with your dermatologist on the right choice for you and your lifestyle.
How you take care of your skin post laser is just as important as the procedure itself. After your treatment, your skin may be quite sensitive and irritated, depending on the depth of the peel you've booked. RescueMD DNA Repair Complex is the ideal product to use post-treatment; it's developed with rich hydrating ingredients, as well as ingredients that help tamp down on inflammation and support your skin DNA's natural regenerative functions. 

Terri Grier, Dermatology Nurse Practitioner and owner of the Skincare Studio in Stratford, CT, elaborates:
"I absolutely love RescueMD for its amazing recovery abilities. As someone who has been a nurse in dermatology for over 10 years this is definitely one of my go-to for all post laser treatment protocols. It's not only a wonderful hydrator, it also instantly starts repairing the skin.
My clients and I absolutely love this product. We use it in the treatment rooms and outside of the treatment room."
What's One Thing That All Of These In-Office Procedures Have In Common?
What's true in all cases is that post-care is crucial to ensuring your results! Lily Nizam, PA-C, CPCP, and co-founder of Alabama Surgical Arts and ASA MedSpa elaborates:
It's important to use the right skincare products after a procedure that are designed to help maintain in-office procedures. A similar analogy would be receiving a dental cleaning and then continuing to brush and floss your teeth afterwards.
Lily Nizam
PA-C, CPCP
Regardless of your treatment type, you can optimize your results by what you do at home after the procedure. Follow these top 5 best practices post-procedure:
Stay out of the sun and wear your SPF! Most skin care professionals will advise you to choose a mineral based SPF of 30 or higher. When venturing outside, stick to the shade and wear a UPF rated hat and clothing for an extra layer of protection
Avoid the heat from showers, saunas, yoga or any exercise that could raise your body temperature
Do not touch or pick at your vulnerable, newly-treated skin! Doing so could damage or wound the skin and cause further hyperpigmentation and scarring down the line in addition to increasing the risk of infection
Depending on your treatment type, wait 7-10 days before returning to anything exfoliating including retinoids/retinols, alpha hydroxy or beta hydroxy acids, scrubs or facial cleansing devices
Use products formulated specifically for post-procedure healing and repair like RescueMD DNA Repair Complex. Our hydrating, non-comedogenic serum will help to minimize irritation, redness and inflammation, and reduce downtime while providing nourishing support to your newly treated skin
Always follow the post-care protocol provided by your dermatologist, aesthetician or skin care professional.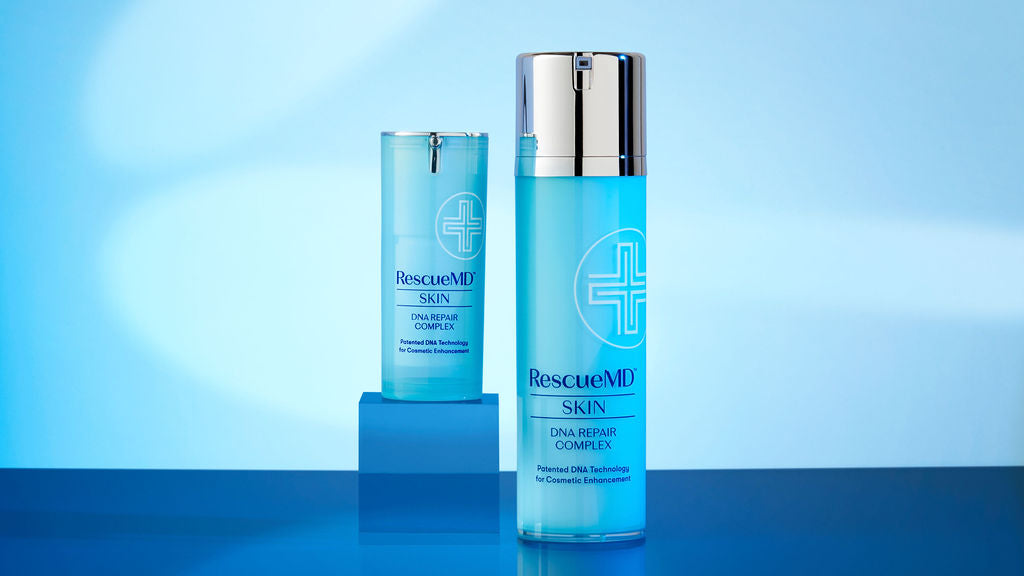 About Our Featured Aesthetic Professionals
Terri Grier is a Dermatology Nurse Practitioner and owner of the Skincare Studio in Stratford, CT. Follow Terri and her studio on Instagram and visit her website to learn more.
Rosie Petrillo is a Licensed Esthetician, microneedling specialist, and owner of Âme Skin Studio in Norwalk, CT. Follow Rosie on Instagram and visit her website to learn more.
Lily Nizam is a PA-C, CPCP, and co-founder of Alabama Surgical Arts and ASA MedSpa in Montgomery, AL. Follow Lily and Alabama Surgical Arts on Instagram. Visit Alabama Surgical Arts website to learn more.