The holidays can be stressful. The last thing you need to worry about is packing your skincare or stressing over breakouts, dryness, or irritated skin. We've got tips to help you pack light, keep your skincare routine simple and effective, and help you maintain balanced, hydrated skin throughout your travels no matter the weather or mode of transport over the holiday season.
What Skincare Basics Do You Really Need To Pack?
Let's be honest — if you're reading this, you've probably been guilty of overpacking your skincare at one point in time (we've all been there). Do I need to pack five serums formulated to treat different concerns? Should I pack these face masks just in case? Do I need to pack a 9-step skin routine? With so many different products designed to treat different concerns and seeing elaborate routines touted by celebrities on social media, it can be hard to figure out what products you really need to bring so you end up throwing them in the bag… and never using them. This year, pack lighter and take a 'Marie Kondo' (and doctor-approved) type of approach to your skincare travel kit. Here are our baseline non-negotiables for every Dopp kit. 
Other products to pack? Don't forget to take your prescription products or actives in your routine (think retinoids, AHA/BHA, etc.) that your dermatologist or esthetician recommends using regularly in your skincare routine. 
RescueMD is the ideal companion to keep your skin hydrated, and reverse the skin stress of travel. Whether it be the dry environment of an airplane, the stress of travel, or the enjoyment of being outdoors on vacation, the sun, wind, and your overall mood and health all contribute to your skin health. The antioxidant and repair mechanisms in our DNA Repair Complex make an outstanding travel companion.
Michael Suzman, MD FACS
Board Certified Plastic Surgeon & RescueMD Co-Founder
Want to further lighten your load? You may consider using travel-size versions of your must-have skincare items (our DNA Repair Complex 15ml is TSA-approved) or purchasing reusable containers for your skincare, body care, and hair care. We recommend using BPA-free, non-leaching, leak-proof, UV-protective reusable containers for your skincare products as they tend to be more sensitive to oxidation and light. 
Common Skin Concerns While Traveling
Traveling can wreak havoc on your skin. Some of the most common skin concerns that flare up when traveling over the holidays are acne breakouts, dry and dehydrated skin, dullness and lack of glow, and a compromised skin barrier. 
Why do skin conditions tend to flare up around travel? It could be from stress, lack of sleep, climate changes, incidental sun exposure, diet changes, a disruption in your regular skincare routine, or a combination of these factors. These travel-induced skin concerns can certainly put a damper on your holiday spirit. 
How Changes In Climate And Humidity Affect Your Skin During Travel
Whether you're traveling to a cold climate or a hot climate, changes in temperature and humidity levels can affect your skin. Cold climates tend to pull the moisture out of your skin due to low humidity levels. Likewise, warm climates with high humidity levels may tend to trigger your skin to produce more oil and are more often associated with an increased risk of sun damage due to stronger UV rays. 

Even your method of traveling can have an adverse effect on your skin health — airplanes, we're looking at you! According to the World Health Organization, humidity levels in airplane cabins tend to be less than 20% (the humidity levels in homes tend to be above 30%). So what does this mean for your skin? If you have dry skin already, you may notice your skin may become drier, more dehydrated, and dull because your skin's moisture levels will be depleted due to low humidity levels in the environment (the low humidity environment essentially sucks the moisture out of your skin). For those with oily skin, you may notice that your skin becomes even oilier, as your skin is overcompensating to replenish moisture levels in your skin. Yikes!

Another factor with air travel (and all travel) to be aware of is an increased risk of photodamage from UV rays. Thousands of feet up in the sky, you're at even more risk of UV exposure which can cause skin damage, accelerate signs of aging, disrupt the skin barrier, and increase your risk of developing skin cancer. During the morning and daytime hours, make it a rule to apply and reapply your SPF every two hours or as indicated on the packaging. Better yet, close the window shade to help reduce the risk of photodamage. You can also purchase clothing and accessories like hats and gloves with built-in UPF protection to further protect your skin. 

That's not to say that all other methods of travel support happy, balanced skin. Road Trips in cars and buses or long-distance train travel can also disrupt the moisture levels in the skin due to low humidity levels or high, drying heat. You should take the same precautions as you do with airline travel. You also may be able to bring a small, rechargeable humidifier to help keep your skin hydrated during your trip.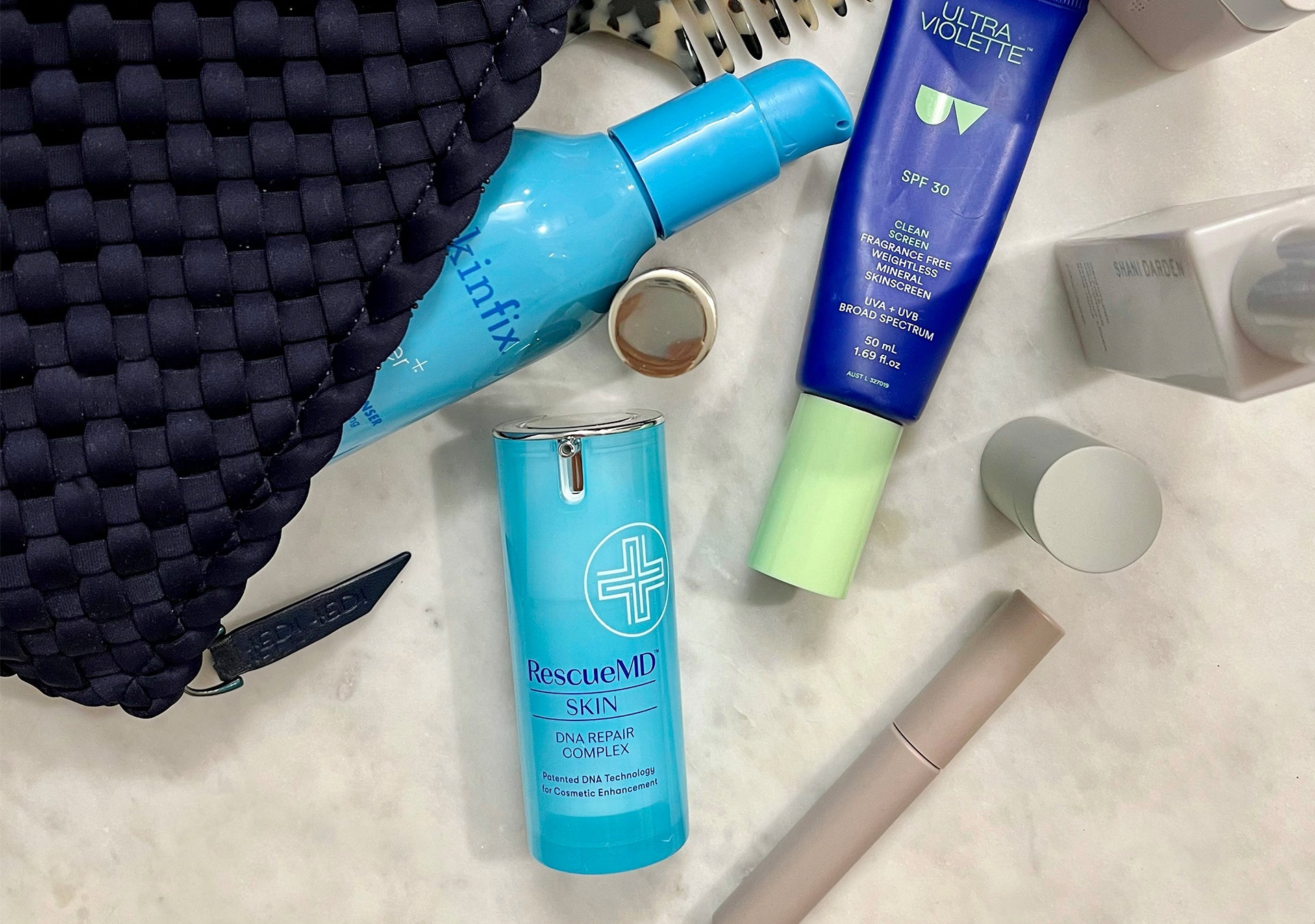 Tips To Keep Your Skin Healthy-Looking And Balanced During Your Travels Over The Holiday Season
Here are some of our top tips to keep your skin healthy-looking and happy during your holiday travels. 
Skip the complimentary in-flight cocktails or sugary sodas and juice options. Drink water to hydrate from the inside and out. Aim to drink 8 ounces of water every hour to maintain optimal hydration levels. 
Pass on fast food, processed food, and snacks. While they may be convenient for on-the-go, they won't do you any favors in the long run. Processed food and sugary snacks with 'empty calories' can make you feel sluggish, disrupt your gut, cause breakouts, and leave you feeling less than 100%. Opt for nutrient-rich leafy greens, fruits, and vegetables to further support your mind and body health from the inside out. If you're unable to bring your own healthy snacks from home while traveling (say at the airport), opt for fresh fruits and vegetables and omega-3-rich nuts which you can find at most airport convenience stores. 
Keep up with your regular skincare routine. Cleanse your skin in the morning and before sleep, reapply your SPF liberally during the day, and add essential moisture back into your skin with the right skincare products. RescueMD is perfect for on-the-go travel and helps to support a healthy skin barrier, hydrate, and soothe and balance irritated skin. 
For travel and on-the-go, we love to bring an SPF in a stick form. This handy and easily accessible form of SPF eliminates the need to directly touch your skin with your hands and transfer breakout-causing dirt, oils, and bacteria. Use an alcohol-saturated wipe to disinfect your sunscreen stick after use. 
If possible, forgo makeup completely or wear light makeup when traveling. Certain types of makeup can be heavy, pore-clogging, or drying, especially when combined with the lack of humidity in the airplane cabin or a hot car. Prioritize your skincare products over your regular makeup must-haves for happier skin. If you must wear makeup, opt for lightweight, non-comedogenic formulas or tinted mineral SPFs. 
If you're masking up, be sure to use a clean mask and routinely change your mask out to help avoid 'maskne' breakouts. 
Don't touch your face! You can transfer dirt, bacteria, and oil and cause breakouts. 
Prioritize getting your beauty rest. As much fun as it is to make your way through the on-demand movies during your trip, sleep is important in supporting your body's natural regenerative and reparative processes. Bring a silk eye mask to block unwanted light, earplugs, or noise-canceling headphones, drink a calming, herbal sleepy-time tea, and use a neck pillow for added comfort. 
*In a dermatologist-led clinical study, DNA Repair Complex was clinically proven to boost radiance in 100% of subjects observed for improvement
Where RescueMD Fits Into Your Travel Skincare Routine
As traveling can disrupt the balance of our skin, our DNA Repair Complex can help to keep your skin balanced and happy. Our non-comedogenic DNA Repair Complex is formulated with active ingredients that help support your skin barrier and your skin's moisture levels, no matter your skin type or concerns. Our formula contains skin barrier-supporting ingredients including soothing and hydrating allantoin, glycerin, dimethicone, and our signature antioxidants which help defend the skin against future damage. Our patented lapachol targets and fades skin damage including hyperpigmentation, scarring, and UV damage at the DNA level and helps to promote more even-toned and radiant skin. 
For those who love enjoying the great outdoors in extreme cold or heat, your skin can definitely get weathered and suffer the effects. Protecting the barrier function that protects your skin from the environment is essential which is why I start the day with RescueMD. The peptides and antioxidants provide support for the skin and the dimethicone, allantoin, and panthenol serve to bolster the hydrating and barrier functions of the top layer of skin.
Michael Suzman, MD FACS
Board Certified Plastic Surgeon & RescueMD Co-Founder
For an easy skincare routine during travel, use RescueMD on dry skin after cleansing your face with a gentle, hydrating cleanser. For drier skin types, follow your DNA Repair Complex with a rich cream moisturizer with ceramides to help provide additional hydration to the skin. For oilier or blemish-prone skin types, use a non-comedogenic, lightweight, and oil-free moisturizer if additional hydration is needed. Always follow with SPF in the daytime. Dr. Suzman recommends EltaMD UV Clear to his patients.