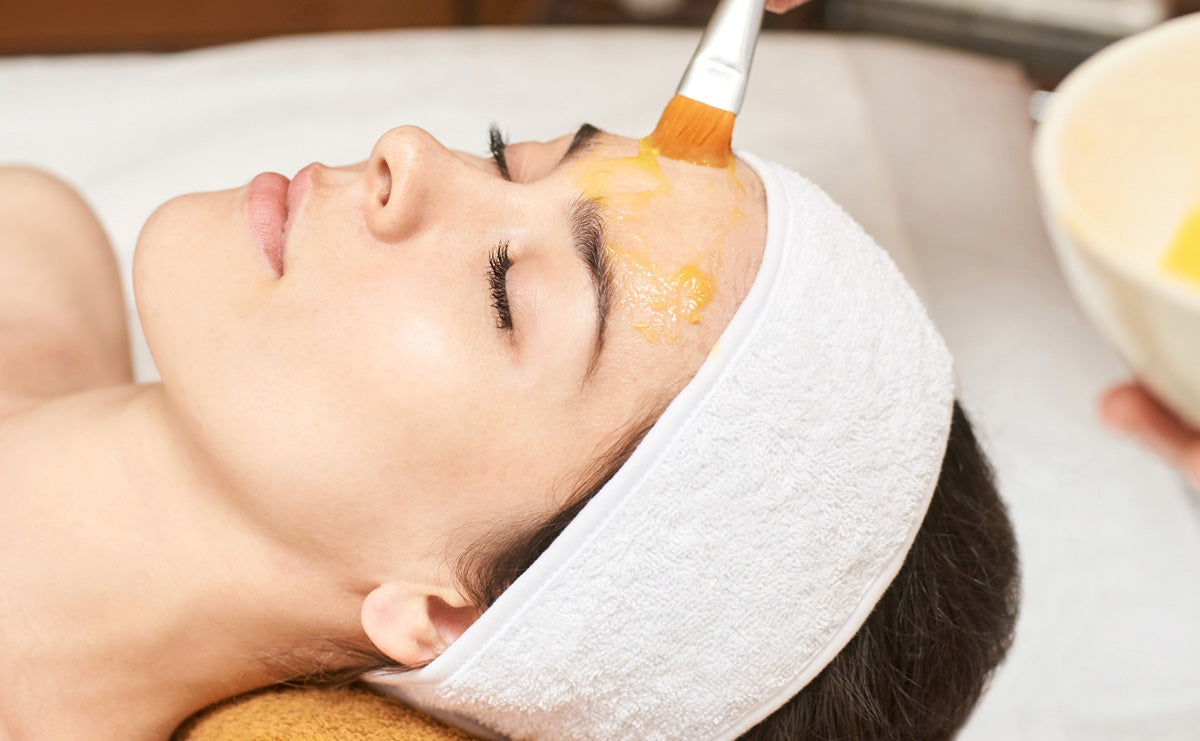 RescueMD > RescueMD Blog
Don't Pick Your Skin + More Chemical Peel Aftercare Tips To Live By
Thanks to that one notorious plot line in Sex and the City, chemical peels have gotten a pretty negative reputation — but the truth is that these professional exfoliating treatments can be a remarkable weapon in your arsenal against skin damage and other signs of skin aging. "Chemical peels can be a really effective means of resurfacing the skin," explains Dr. Michael Suzman, board-certified plastic surgeon and co-founder of RescueMD.
There are different depths of peels, but they all work via the same mechanism: an acid with exfoliating powers (such as glycolic acid) works to dissolve the bonds responsible for binding dead skin cells to the epidermis, the most superficial layer of the skin. Once those cells have been swept away, fresh new skin is revealed and the process of cellular turnover has been stimulated, resulting in the production of new collagen. "[This] can reduce sun damage, reduce pigmentation, and reduce wrinkles," says Dr. Suzman. 
New layers should come in with more moisture content, more organized collagen, and perhaps fewer wrinkles and brown spots.
Michael Suzman, MD FACS
Board Certifid Plastic Surgeon & RescueMD Co-Founder
However, as effective as a chemical peel can be, the treatment is still damaging the skin — with the hopes that it will heal more accurately and more beautifully. "Every time we intentionally injure the skin for beauty treatments, we want it to recover with the least amount of inflammation and the most support for healing," explains Dr. Suzman. The unfortunate truth is that many seemingly harmless, everyday behaviors could negatively affect your healing — and your chemical peel results. Here, we break down the best ways to care for your skin after a chemical peel, including behaviors to avoid, products to try, and more.
What Should I Avoid After A Chemical Peel?
After a chemical peel, "your skin will be a little red or irritated," warns Dr. Suzman. "It will typically take up to two days to reduce in redness, and your skin may take a full week to peel and recover." That's right: In some cases, your skin may literally start to peel off, shedding a robust layer of dead, damaged skin cells to pave the way for healthy new growth. 
During this time, your skin may be quite sensitive, depending on the depth of the peel you've booked. It is important to stay out of the sun while your skin is shedding (more on this later) after your chemical peel. If you don't witness any peeling, that's OK, and it's not a sign that your peel didn't work — and furthermore, it is not an indication that you don't need to protect your skin from the sun. While you should always ask your provider for their recommendations, we find that it's best to avoid sun exposure for up to two weeks after receiving a chemical peel to best protect the skin.
In general, after receiving a chemical peel, you want to avoid activities that could cause you to overheat, as they could cause inflammation and hinder skin healing. Intense heat could even cause the development of uncomfortable blisters deep under the skin (ouch!). Many providers recommend avoiding strenuous activity and heavy sweating for the first three days — so if you typically swear by intense HIIT fitness classes, you might want to temporarily switch to restorative yoga. Otherwise, you can live your life as you usually do. 
Should I Apply SPF After A Chemical Peel?
Absolutely, as long as your chemical peel practitioner says it's OK to do so. We strongly recommend applying a sunscreen formula with SPF 30 or higher every single day. Remember, sun exposure is the leading source of skin damage, and scrupulous sunscreen use can go a long way towards protecting your complexion. Apply a nickel-sized amount to your face and neck every morning — and don't forget to reapply every two hours, especially if you've gone swimming or got sweaty (after the first three days of chemical peel recovery, of course!).
What Is The Best Moisturizer To Use After A Chemical Peel?
To properly nourish your delicate skin as it heals, you should look for a skincare formulation that's developed with rich hydrating ingredients, as well as ingredients that help tamp down on inflammation and support your skin DNA's natural regenerative functions. RescueMD Skin DNA Repair Complex is one of the best serums to use after a chemical peel — or really, any medical-grade skincare treatment — because it does all this and more.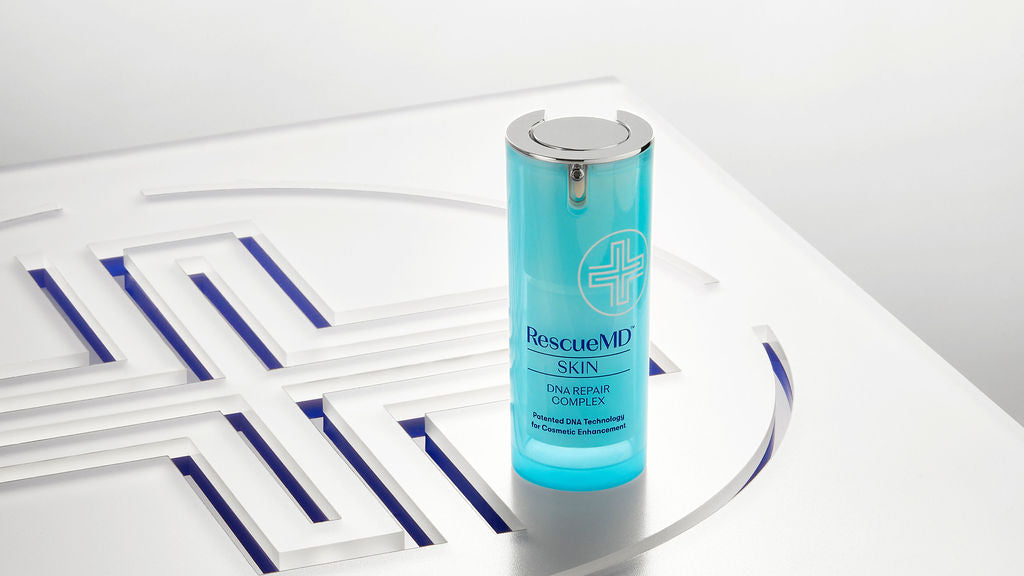 The signature, exclusive ingredient in RescueMD Skin DNA Repair Complex is lapachol, a compound derived from pau d'arco, bark from a tree found in the Amazon that has been used for centuries as a homeopathic remedy. Lapachol has been shown to have powerful anti-inflammatory properties, as well as antioxidant, antimicrobial, and antibacterial benefits, and works to support the DNA in your skin, promoting healthier regeneration. A cocktail of natural ingredients like black currant seed extract, rosemary leaf extract, and sunflower and rosehip seed oils provide further free radical defense and lightweight hydration. All of the ingredient benefits of RescueMD Skin DNA Repair Complex make it a soothing pick to apply post-chemical peel. 
While you should ask your chemical peel provider if they have specific aftercare guidelines for your post-treatment skincare routine, Dr. Suzman recommends his patients apply RescueMD Skin DNA Repair Complex twice daily after getting a chemical peel. 
As for the application of other products, it's recommended to avoid physical and chemical exfoliants like scrubs, loofahs, glycolic acid, lactic acid, and salicylic acid (after all, you just got a chemical peel!) for up to two weeks, in addition to retinols and retinoids. It's also important to avoid any potentially irritating ingredients, like vitamin C and benzoyl peroxide during this time. We like using a mild face wash like Cetaphil Gentle Skin Cleanser, RescueMD Skin DNA Repair Complex, and SPF while our skin recovers from a chemical peel.
What Happens If I Peel The Dead Skin Off My Face After A Chemical Peel?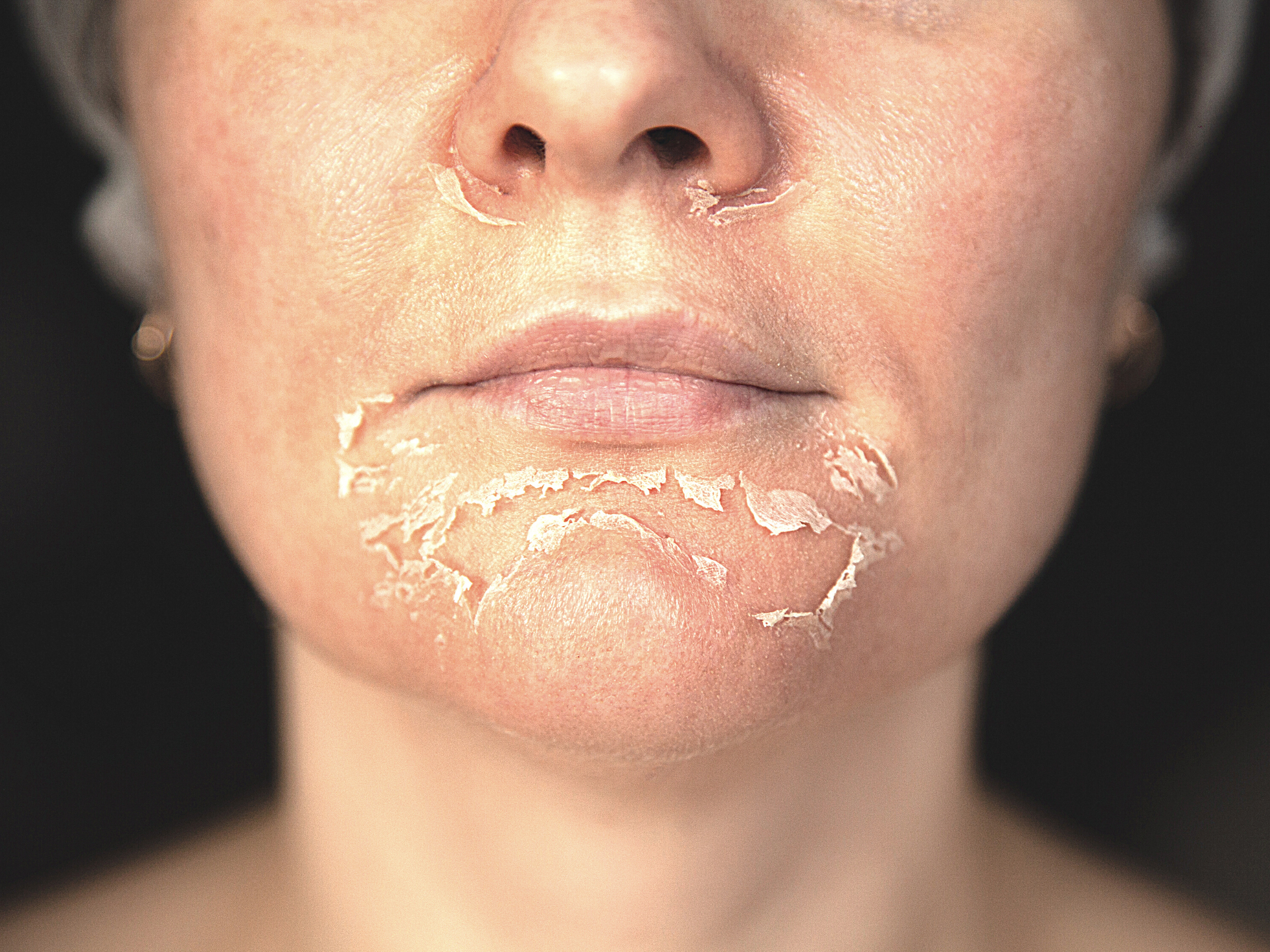 As we mentioned, some chemical peel patients may experience a literal "peeling" in which the dead skin sloughs off the face in sheets — very similarly to how your skin peels after an intense sunburn. It is imperative that you do not pick, tug, or peel at this skin. Doing so could crack, damage, or wound the skin and cause hyperpigmentation down the line. Many people get chemical peels to tackle hyperpigmentation, so don't create skin problems for future you: Hands off.
When Should I Get My Next Chemical Peel?
How soon you book your next chemical peel depends entirely on your skin goals, the current state of your complexion, and your provider's recommendations. However, many practitioners will tell you that you can maintain glowing, fresh-faced results with just two to three peels a year.