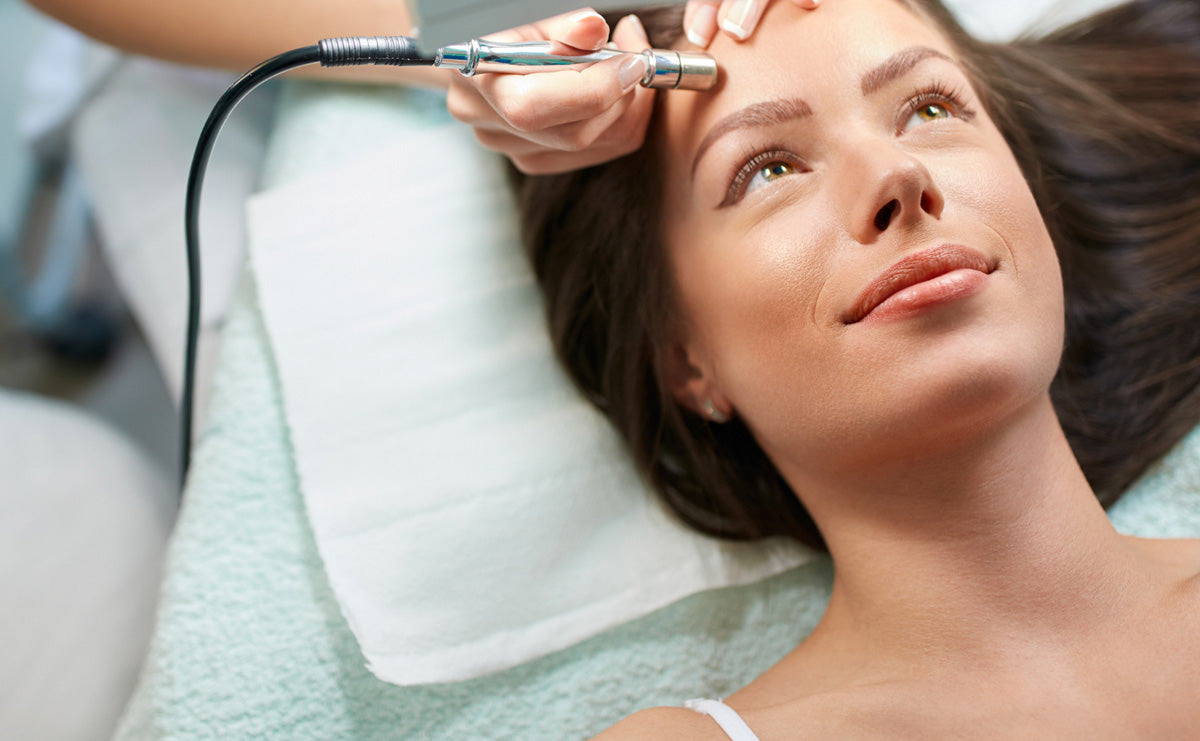 RescueMD > RescueMD Blog
Microdermabrasion Aftercare: What You Need To Know
These days, it seems like there are countless skin treatments — both at home and in-office — designed to give you smoother, brighter, more even skin. One such treatment is microdermabrasion, a form of physical exfoliation. While you can definitely DIY microdermabrasion with at-home devices, you'll see the most dramatic results by booking a professional treatment with an esthetician, dermatologist, or other skincare expert. Microdermabrasion is a non-invasive procedure that boasts zero to little downtime, but how you care for your skin as you recover can make a big difference in the results you see, as well as how long they last. Keep reading to learn more about microdermabrasion, microdermabrasion aftercare, the best serum to use after microdermabrasion, and more.
What Is Microdermabrasion?
Microdermabrasion is a professional skincare procedure that removes the superficial layer of the skin via gentle exfoliation. It's a very popular treatment, as adults of all ages and skin tones can safely benefit from microdermabrasion. While all microdermabrasion devices are different, they typically use very fine crystals as their main resurfacing mechanism. Some do this by delivering a constant spray of crystals, other devices feature an abrasive diamond tip that literally buffs the surface of your face. Both "vacuum" your face simultaneously, so no particles or dead skin cells are left behind.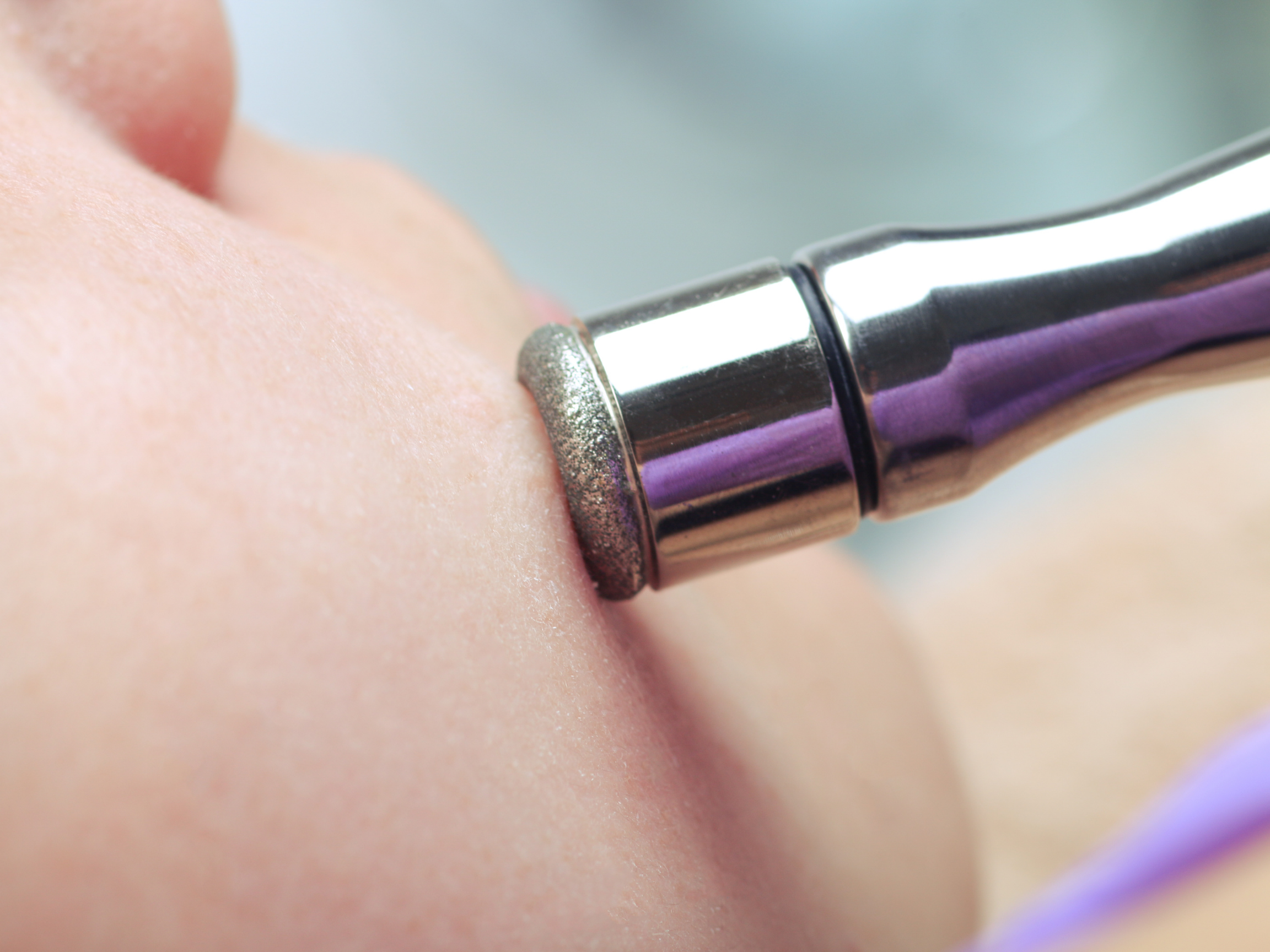 Regardless of which microdermabrasion tool your practitioner uses, you can expect the same results: Smoother, softer-looking skin. By exfoliating away the top layer of skin, you'll be stimulating your body's cellular turnover process, which encourages your body to produce new collagen. You'll also be revealing a fresh and healthy new layer of skin that looks more radiant and even. The one-two punch of microdermabrasion can help reduce the appearance of sun damage, fine lines and wrinkles, hyperpigmentation, enlarged pores, dull skin, and in some cases, even improve the look of acne scars.
What Happens To Your Skin After Microdermabrasion?
Because the procedure is non-invasive and has zero downtime, you can expect to resume your regular activities immediately after your appointment, making this a popular treatment to get over a lunch break. That said, after microdermabrasion, your face may be a bit pink or inflamed, but otherwise, you should see no other indications that you got something "done." Once any redness subsides, there's a good chance you'll immediately see the results of your microdermabrasion treatment — your complexion may look more luminous and fresh, while imperfections can appear less visible.
What Should I Put On My Face After Microdermabrasion At Home?
After your appointment, you should consult with your practitioner regarding microdermabrasion aftercare, as they may have a special regimen they'd like you to follow. Otherwise, you should seek out gentle skincare formulas, especially those that can help promote your skin's recovery post-procedure. "The products that people use today after microdermabrasion, like petrolatum, are thick and can block the pores," says Dr. Michael Suzman, board-certified plastic surgeon. 
Supporting the skin after microdermabrasion with a product that enhances skin repair is essential
Dr. Michael Suzman, MD FACS
Chief of Plastic Surgery
Instead of applying something heavy and potentially comedogenic, you should look for a lightweight, hydrating treatment, ideally one that can reduce inflammation. One of the best serums to use after microdermabrasion is RescueMD Skin DNA Repair Complex. This innovative serum was formulated using proprietary technology developed by Ivy League scientists. Our product features a gentle-yet-powerful blend of skin-soothing ingredients to deliver lasting nourishment and moisture, whilestimulating your DNA's natural reparative properties.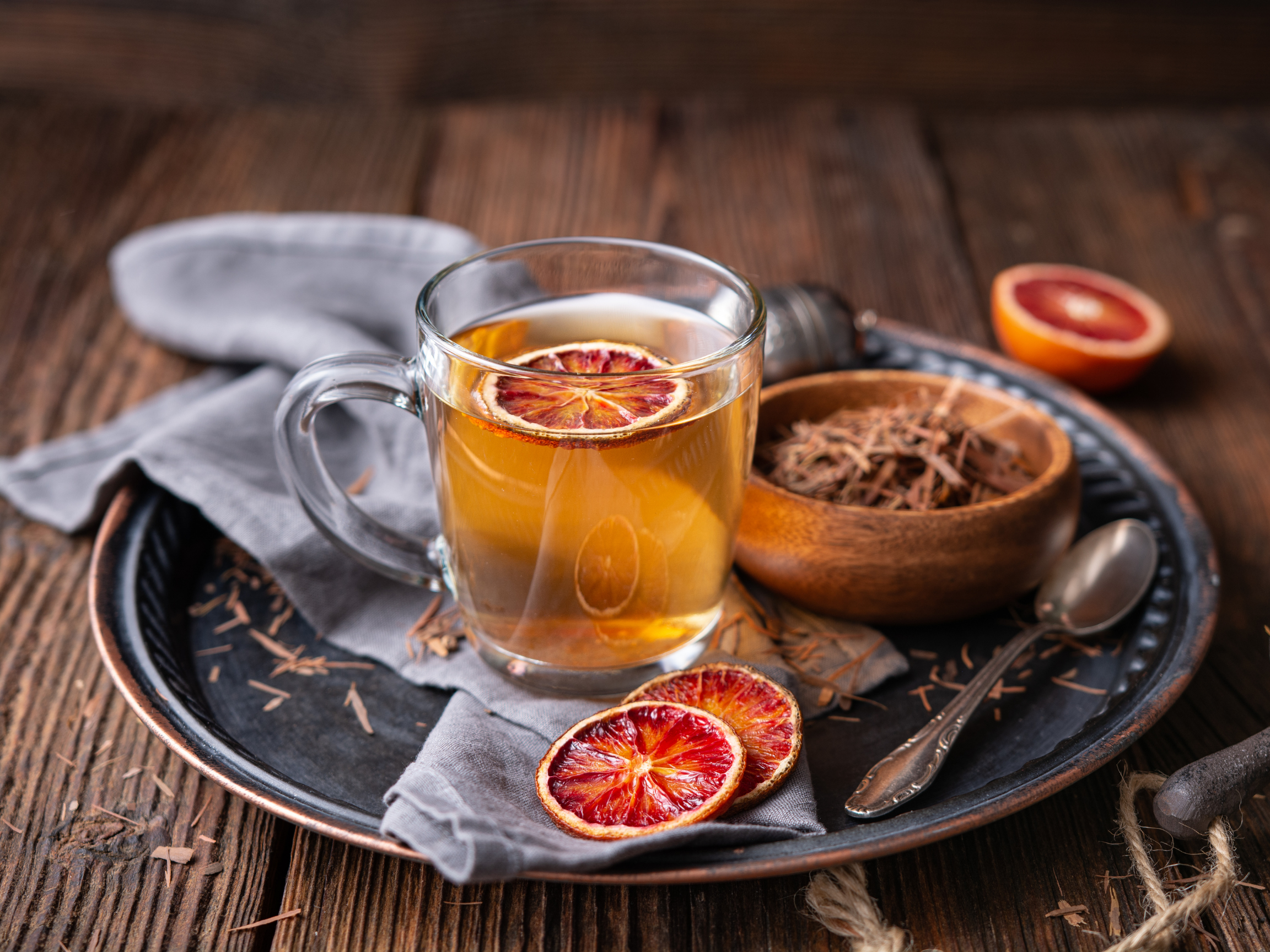 The star ingredient of RescueMD Skin DNA Repair Complex is lapachol, a potent compound extracted from pau d'arco, the inner bark from a tree found in the Amazon that has long been used as a homeopathic remedy, typically taken as an oral supplement, tincture, or brewed like a tea, as seen above. Studies have shown that lapachol is not only an powerhouse anti-inflammatory, antibacterial, antioxidant-rich ingredient, but can also improve the precision and efficacy of how your body repairs damaged DNA. When it comes to your skin, that means RescueMD Skin DNA Repair Complex can help your skin appear healthier, with less visible skin damage. Slicking on this serum after microdermabrasion should not only help reduce inflammation, but promote a nourished, radiant glow.
And, of course, don't forget to apply sunscreen! After any form of exfoliation, you'll need to protect your new skin from the harmful effects of UVA and UVB rays.
How Long Do The Effects of Microdermabrasion Last?
Because every person is different, the effects of microdermabrasion can last anywhere from two weeks to four weeks, depending on the severity of the skin damage you're trying to tackle with your treatment. To get longer-lasting and more dramatic results, you'll definitely need more than one microdermabrasion appointment. However, keeping your skin moisturized and nourished with RescueMD Skin DNA Repair Complex could help extend the results of your microdermabrasion treatment by enhancing your DNA's natural regenerative properties. Just as you support gym workouts with a healthy diet at home to see results, you should support the work of your professional skin treatments with quality at-home skincare.