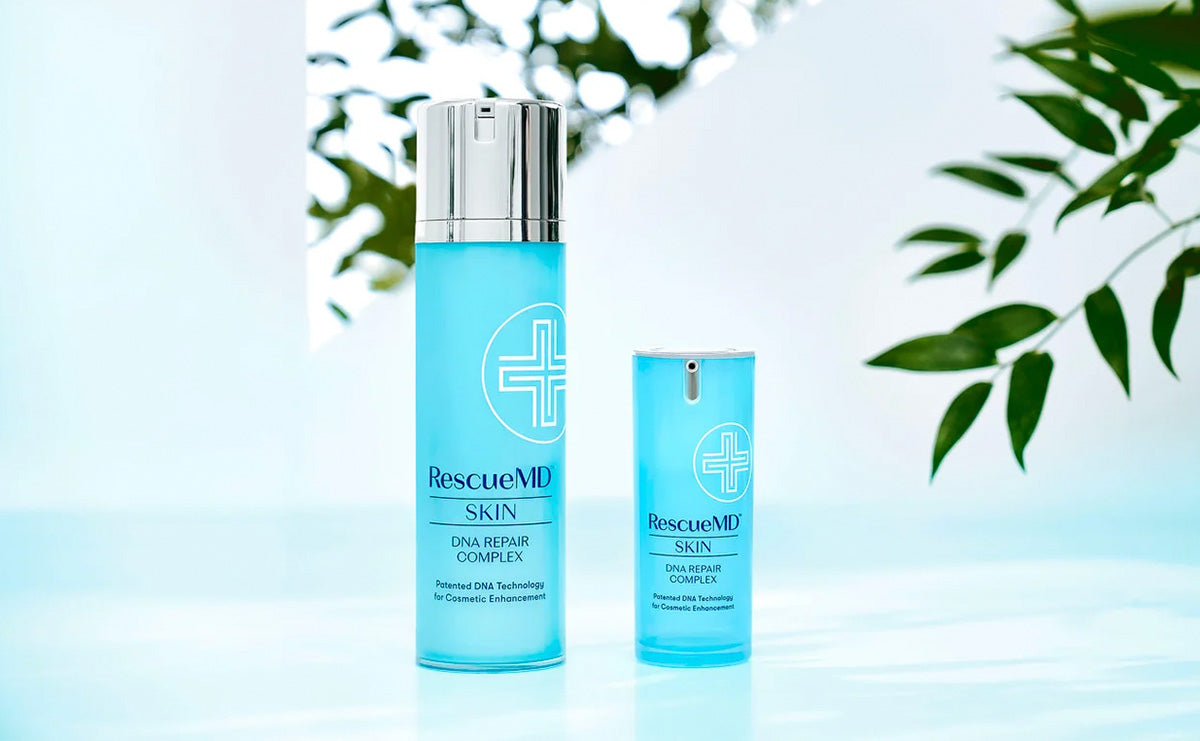 RescueMD > RescueMD Blog
How To Maximize Your Skinvestment This Winter With RescueMD
Are you planning any in-office treatments this winter? This month, we sat down with top NYC dermatologist, Dr. Marisa Garshick of MDCS: Medical Dermatology and Cosmetic Surgery Center. Board-certified dermatologist and Clinical Assistant Professor of Dermatology at New York Presbyterian-Weill Cornell Medicine, Dr. Garshick, shared why winter is the hottest time of the year for in-office treatments plus, how to maximize your skinvestment with your pre-treatment and post-treatment skincare regimen. 
Why Is Winter Time An Ideal Time For Treatments Like Laser And Peels?
"The winter months are a common time for treatments that help to address post-summer skin, using lasers and chemical peels to reduce signs of sun damage, including sun spots, fine lines and wrinkles. The winter is especially good for procedures like chemical peels, resurfacing lasers and microneedling that may make the skin more sensitive to the sun given overall decreased UV exposure during this time. Additionally, people often find their winter schedule can accommodate the downtime that may come with some of these procedures. While injectables can be performed all year, the winter months are still a very common time for neuromodulators and fillers."
Why Is It Beneficial To Prep The Skin With RescueMD Before Treatment?
"When considering a treatment, be sure to plan ahead and speak with your doctor if there are any products you should use in advance of the procedure and any ingredients to avoid prior to the procedure. In many cases, it is best to avoid retinoids or harsh exfoliants in the days leading up to laser treatments to minimize the potential for irritation. 

On the other hand, there are some ingredients that may help to prep the skin, such as the RescueMD DNA Repair Complex. Using DNA Repair Complex pre-treatment, you will prepare the skin to have a better response to the injuries associated with a cosmetic procedure, which may help with recovery and results. It is recommended to use DNA Repair Complex for at least 7-14 days pre-procedure. You should apply one pump, per area, on clean, dry skin both morning and evening."
RescueMD customer's results (3 days post-treatment) after Clear + Brilliant with RescueMD post-care regimen. Customer is not a patient of Garshick or MDCS Dermatology.
What Are Your Top Tips for Taking Care Of Your Skin After A Treatment?
"After treatment it is always important to follow the directions of your doctor. Some tips for post-procedure include:

Avoid sun exposure. Many lasers, chemical peels and microneedling treatments can make the skin more sensitive to the sun and increase the risk for hyperpigmentation. For this reason, especially while healing, it is important to wear sun protection and avoid sun exposure to minimize the chance of post-procedure hyperpigmentation. 

Avoid harsh exfoliants or retinoids. While getting rid of dead skin cells and retinoid use is generally good for an anti-aging skincare routine, if performed just before and just after a laser or microneedling, it can increase the potential for skin sensitivity which may lead to potential irritation or scarring. For this reason, unless otherwise directed, it is best to avoid these ingredients in the days prior and the days after a procedure.

Opt for gentle products including cleansers, moisturizers and serums. It is important to avoid drying out the skin while the skin is recovering and to use products that can help to moisturize and support the healing process. This means using gentle cleansers that won't strip the skin of its natural oils, and moisturizers that won't clog the pores. 

Use products that can support the recovery process. Looking for ingredients that can encourage healing and reduce downtime, without compromising results can be very important. This includes moisturizing, calming and soothing ingredients as well as ingredients that will help encourage repair."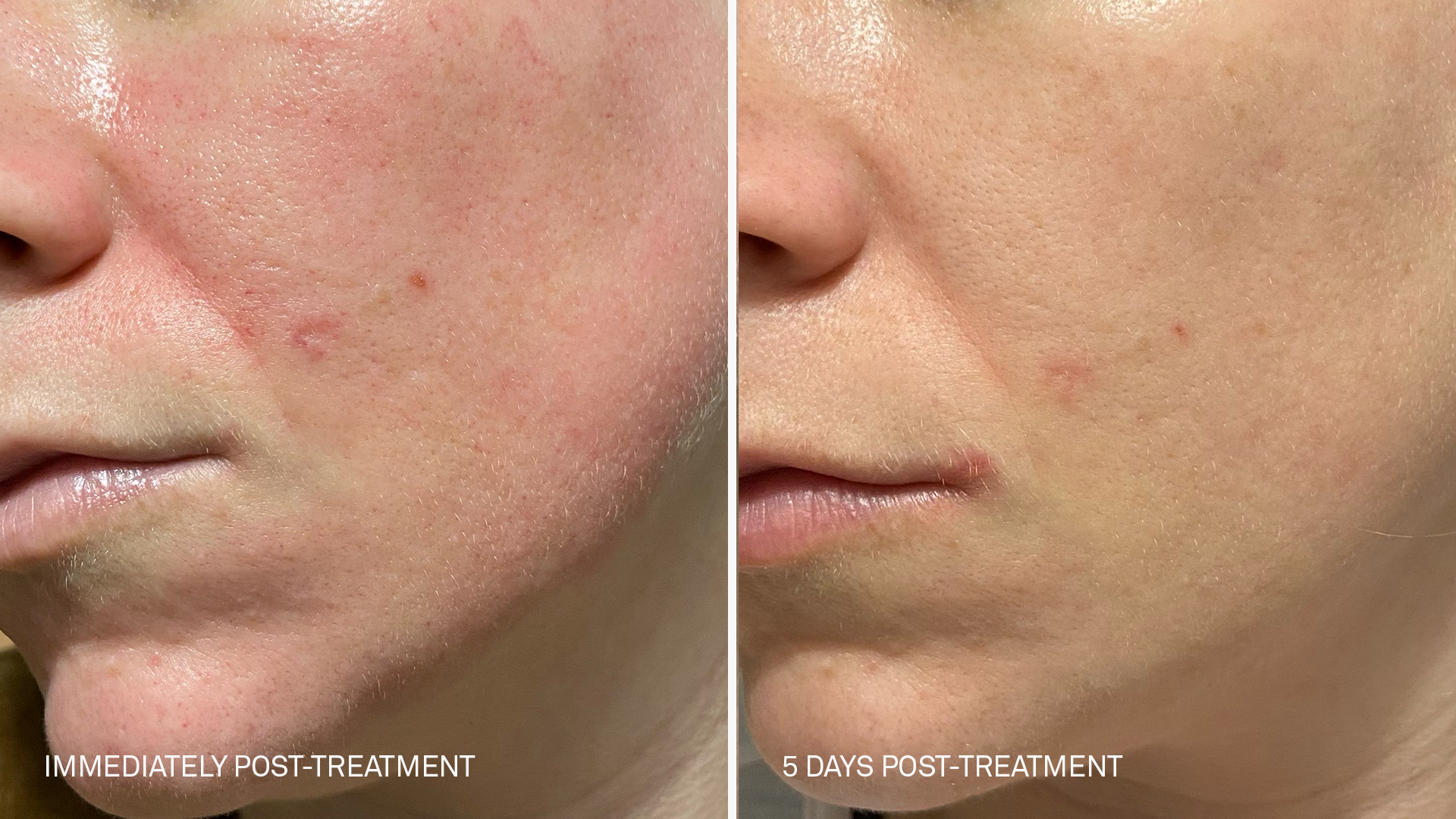 RescueMD customer's results (5 days post-treatment) after Microneedling with RescueMD post-care regimen. Customer is not a patient of Garshick or MDCS Dermatology.
How Can RescueMD Post-Treatment Help Maximize Your Results And Protect Your Skinvestment?
"What you apply to your skin post-treatment is also important to minimize downtime and maximize results. DNA Repair Complex can be great as a post-procedure serum to support skin recovery and reduce downtime. The various ingredients work together to help reduce downtime and support overall skin health. It contains lapachol to help reduce inflammation and redness, moisturizers like glycerin & dimethicone, which draw moisture in and seals moisture within the skin, and allantoin to soothe the skin. The anti-inflammatory formula helps to calm redness, soothe the skin and support healthy cellular structures within skin as it recovers and renews."

Always follow the post-care protocol provided by your dermatologist, aesthetician or dermatology provider. 
About Dr. Marisa Garshick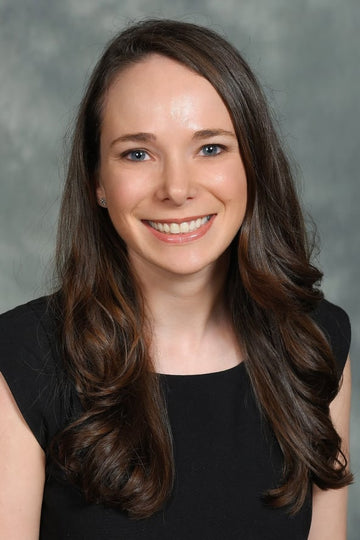 Marisa Garshick, MD, FAAD is a board-certified dermatologist in New York City practicing at MDCS: Medical Dermatology and Cosmetic Surgery Center and is a Clinical Assistant Professor of Dermatology at New York Presbyterian-Weill Cornell Medicine. Dr. Garshick sees patients of all ages, focusing on medical and cosmetic dermatology. She has a passion for being able to improve patient's quality of life and loves to help her patients look and feel like the best version of themselves

Dr. Garshick received her Bachelor's of Science from Emory University. She then went to Tufts University School of Medicine, where she graduated with Research Honors and was elected to the Alpha Omega Alpha Honor Society. As a medical student, she was selected to the prestigious Doris Duke Research Fellowship program which she completed at Harvard Medical School in the Department of Dermatology at Massachusetts General Hospital. She completed her internship at Memorial Sloan Kettering Cancer Center and her dermatology residency at New York Presbyterian-Weill Cornell Medicine, where she served as Chief Resident during her final year. Dr. Garshick has numerous publications in scientific journals and book chapters and has presented at national meetings. Additionally, she has previously worked for the Dr. Oz Show and has been featured in Travel and Leisure, Huffington Post, Women's Health, Allure, Elle, The Knot, Prevention, Harper's Bazaar, Shape, Refinery 29, Popsugar, New York Magazine, Business Insider, Health Magazine, Martha Stewart Living, Cosmopolitan and more. She has been selected to the New York SuperDoctors Rising Stars in 2017, 2018 and 2019 and to New York SuperDoctors in 2021, 2022 and 2023. 

In her spare time, she loves to spend time with her 3 children and husband, who she met while in medical school. 

Follow Dr. Garshick and MDCS: Medical Dermatology and Cosmetic Surgery Center on Instagram. Visit MDCS's website to learn more or to book an appointment.