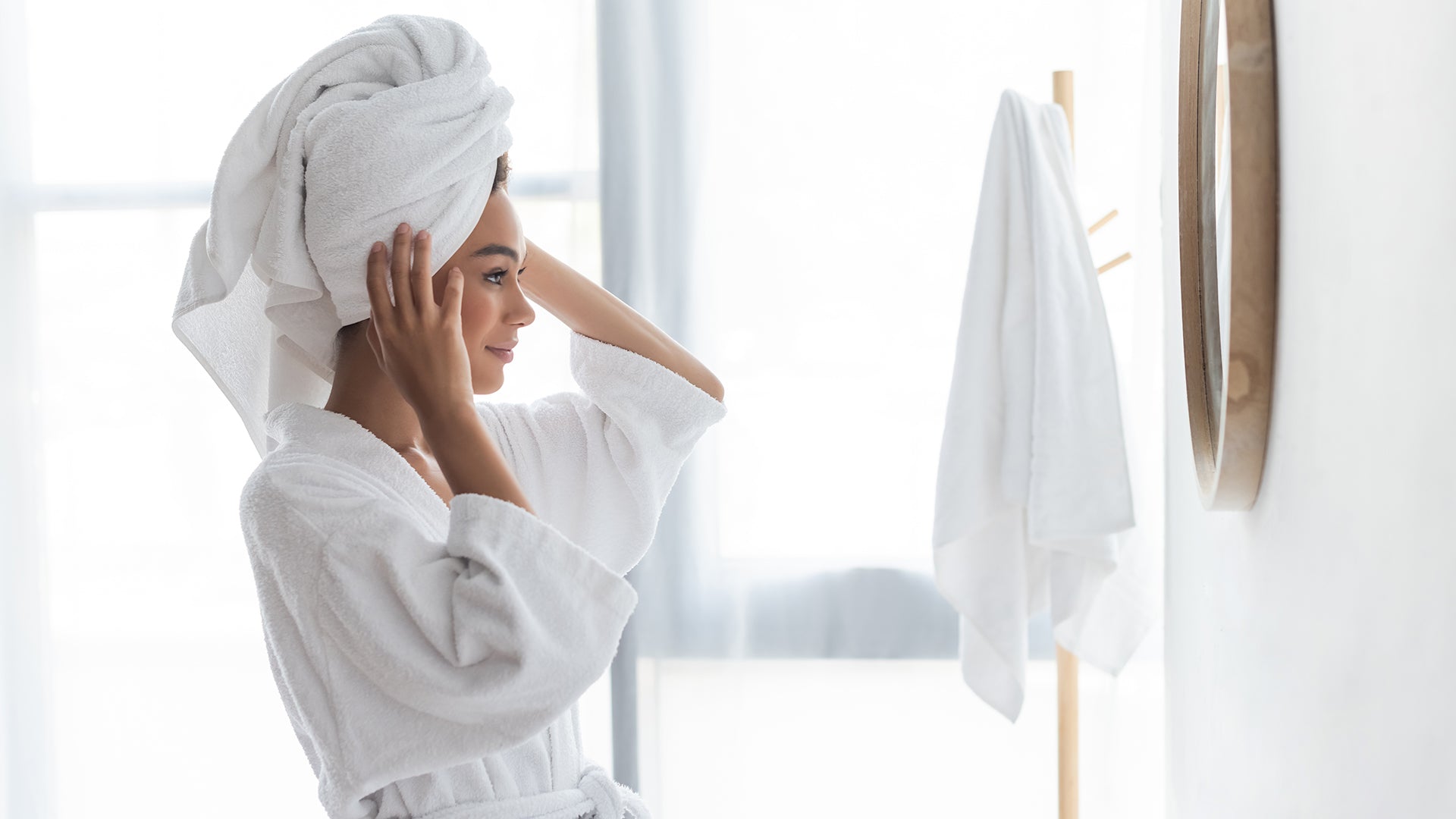 RescueMD > RescueMD Blog
Your Spring Skin Reset With Dermatologist, Dr. Marisa Garshick
After months of cold weather, central heating, and harsh winds, your skin may be in need of some extra TLC to recover its natural radiance. To help you get your skin spring-ready, we consulted with renowned NYC dermatologist, Dr. Marisa Garshick, who shared her expert advice on how to address common spring skin concerns and tailor your skincare regimen to the season. From dealing with dryness and dullness to protecting against sun damage and fading dark spots, read along for Dr. Garshick's top tips to guide you on your journey to healthy-looking, glowing skin this spring season.
What Are Some Of The Most Common Skincare Concerns That You Hear From Your Patients In The Springtime?
"The spring is a common time for people to be concerned about skin dullness as a result of build up of dead skin from the winter months. Patients are also paying more attention to UV exposure as they begin to notice dark spots and hyperpigmentation. With warmer weather people often want to be wearing less makeup, so are also working on clearing up breakouts and blemishes to feel more confident walking outside without as much makeup on."
Do You Have Any Favorite In-Office Procedures That Are Safe For Springtime And Help Revive Dull Winter Skin? 
"In general, the spring is still a good time for chemical peels and laser procedures, as long as someone is good about strict sun protection. As we transition from spring to summer, it is often best to hold off on some of these procedures as the skin may become more sensitive to the sun after the treatments are performed. Some of my favorite devices in the spring include IPL, also thought of as a photo facial, and laser resurfacing to help clear up blemishes, reduce discoloration and boost skin's radiance. 
IPL stands for intense pulsed light which is a light-based device that helps to improve overall skin tone, improving the appearance of redness and hyperpigmentation. While some benefit may be seen after just 1 treatment, in general multiple sessions may be needed for best results. In general I recommend approximately 3-4 sessions space approximately 4 weeks apart.
RescueMD is a great option for post-procedure as it helps to support skin recovery, using lapachol and peptides to support the skin's natural ability to repair and regenerate.
RescueMD is a great option for post-procedure as it helps to support skin recovery, using lapachol and peptides to support the skin's natural ability to repair and regenerate. It works to minimize downtime as it has anti-inflammatory benefits and also is calming and soothing on the skin, containing ingredients like allantoin and glycerin."
*RescueMD customer's results (7 days post-treatment) after one IPL session with RescueMD post-care regimen. Customer is not a patient of Dr. Garshick or MDCS: Medical Dermatology and Cosmetic Surgery Center.
What Are The Benefits Of Tailoring Your Skincare Regimen To The Season? 
"Tailoring your skincare regimen to the season will help to get the most out of your skincare routine. For example, with increased humidity, it is preferred to stick with a lightweight moisturizing lotion as a heavier ointment may be too heavy for the warmer, spring months, even though it is desirable in the winter. By customizing your routine, it helps to keep the skin looking healthy and refreshed. Additionally, using too many products can overwhelm the skin, so it is best to really focus on the products that the skin needs." 
Tailoring your skincare regimen to the season will help to get the most out of your skincare routine.
What Are Must-Have Products To Include In Your Spring Skincare Regimen?
"Cleanser: In the spring, those with dry skin may still prefer to use a gentle hydrating cleanser to minimize the potential for dryness and irritation. On the other hand, those with oily skin may prefer a gel or foaming cleanser to help eliminate excess oil and buildup. Additionally those with oily or acne-prone skin may opt for a salicylic acid cleanser to eliminate dead skin cell buildup and unclog the pores. 
Retinoids: The spring is a great time for retinoids as it helps to regulate skin cell turnover to prevent breakouts and clogged pores that may occur in the summer months. Additionally retinoids work to improve overall skin tone and texture. 
Exfoliants: Exfoliants can also help to improve hyperpigmentation and brighten the skin, helping to get the skin ready for the spring. In general, I typically recommend chemical exfoliants such as AHAs like glycolic acid, lactic acid or mandelic acid or BHAs like salicylic acid, if you have oily skin.  It is important to avoid harsh or abrasive scrubs as these can disrupt the skin barrier and lead to skin injury and inflammation. Regardless of the type of exfoliant, it is important to only exfoliate 1-2 times per week to minimize the potential for dryness or irritation. 
Multi-Benefit Serum: RescueMD DNA Repair Complex is a great option all year round, but especially in the spring as it is gentle on the skin, won't clog pores, provides essential hydration and incorporates antioxidants and peptides to support collagen production. 
Moisturizer: While moisturizing is still important in the spring, it is often recommended to transition to a lightweight lotion as compared to the heavier creams and ointments preferred in the winter months given the temperatures are warmer and there is more humidity in the environment. 
SPF: The best sunscreen is the one you will use. That said, those with sensitive skin may opt for mineral blockers as these tend to be less irritating on the skin and less likely to cause skin reactions. Regardless of what type of sunscreen, it is best to use one that is SPF 30 or higher and broad-spectrum. Those with oily skin may prefer a sunscreen that leaves behind a matte finish and is oil-free to minimize the feeling of greasiness on the skin."
*In a dermatologist-led clinical study, DNA Repair Complex was clinically proven to boost radiance in 100% of subjects observed for improvement.
What Are The Benefits Of Using RescueMD To Help Combat Common Spring Skin Concerns? 
"RescueMD incorporates lapachol technology which gently resurfaces and brightens the skin, as well as antioxidants, hydrating ingredients and peptides to support the skin and calm inflammation. It is especially good for the spring as it provides gentle hydration while also balancing the skin and helping to revive dull winter skin."
About Dr. Marisa Garshick
Marisa Garshick, MD, FAAD is a board-certified dermatologist in New York City practicing at MDCS: Medical Dermatology and Cosmetic Surgery Center and is a Clinical Assistant Professor of Dermatology at New York Presbyterian-Weill Cornell Medicine. Dr. Garshick sees patients of all ages, focusing on medical and cosmetic dermatology. She has a passion for being able to improve patient's quality of life and loves to help her patients look and feel like the best version of themselves
Dr. Garshick received her Bachelor's of Science from Emory University. She then went to Tufts University School of Medicine, where she graduated with Research Honors and was elected to the Alpha Omega Alpha Honor Society. As a medical student, she was selected to the prestigious Doris Duke Research Fellowship program which she completed at Harvard Medical School in the Department of Dermatology at Massachusetts General Hospital. She completed her internship at Memorial Sloan Kettering Cancer Center and her dermatology residency at New York Presbyterian-Weill Cornell Medicine, where she served as Chief Resident during her final year. Dr. Garshick has numerous publications in scientific journals and book chapters and has presented at national meetings. Additionally, she has previously worked for the Dr. Oz Show and has been featured in Travel and Leisure, Huffington Post, Women's Health, Allure, Elle, The Knot, Prevention, Harper's Bazaar, Shape, Refinery 29, Popsugar, New York Magazine, Business Insider, Health Magazine, Martha Stewart Living, Cosmopolitan and more. She has been selected to the New York SuperDoctors Rising Stars in 2017, 2018 and 2019 and to New York SuperDoctors in 2021, 2022 and 2023. 
In her spare time, she loves to spend time with her 3 children and husband, who she met while in medical school. 
Follow Dr. Garshick and MDCS: Medical Dermatology and Cosmetic Surgery Center on Instagram. Visit MDCS's website to learn more or to book an appointment.